Branding
Select work for Minnesota Council of Nonprofits, Theater Mu, and Belton Family Foundation.
Minnesota Council of Nonprofits
2019 Annual Conference branding

For their 2019 annual conference talking about philanthropy in our current political climate, I created art inspired by flight patterns and football plays, and a simple logotype that plays with the concept of disruption.
The lines were created by playing with thread, taking photos, and then turning them into vector images.
Theater Mu's
New Eyes Festival
2018 branding for new work series
For New Eyes Festival, I wanted it to have a bold, modern feel with vibrant colors that would play well with Mu's main red and black palette. I created a bold logotype and vibrant art that connects with the viewer's gaze.
Belton Family Foundation
The Belton Family Foundation was founded in 2010 with the desire to perpetually fund big ideas that change the world. Since its inception, the foundation has focused on four key areas, supporting Empowering Communities, Transforming Minds, those that Create & Inspire, and Faith & Social Justice. The brand has a warm, friendly, and approachable tone that can also have a distinguished feel through its use of black & white photography and sometimes dark gray background. The brand system is flexible, clean & efficient, inviting people to join in and do good work.
Adaptable photo version of logo is used either without logotype or with reduced horizontal version of logotype. Version is designed to have photos switched out for current photos as outlined in photography rules: black & white only at 70% opacity over 100% tint of color background, with photos pertaining to specific focus area.
The Belton Family Foundation website is clean and minimalist in content and efficient in written expression. It plays between a casual warmth, kindness, and approachability, and more serious tone in imagery and content given the world needs that the foundation addresses. The website employs simple, yet effective interactivity, and a clean user interface that allows the audience to easily walk through and feel a part of the BFF story.
Completed as part of a project for MCAD for a future real-world build.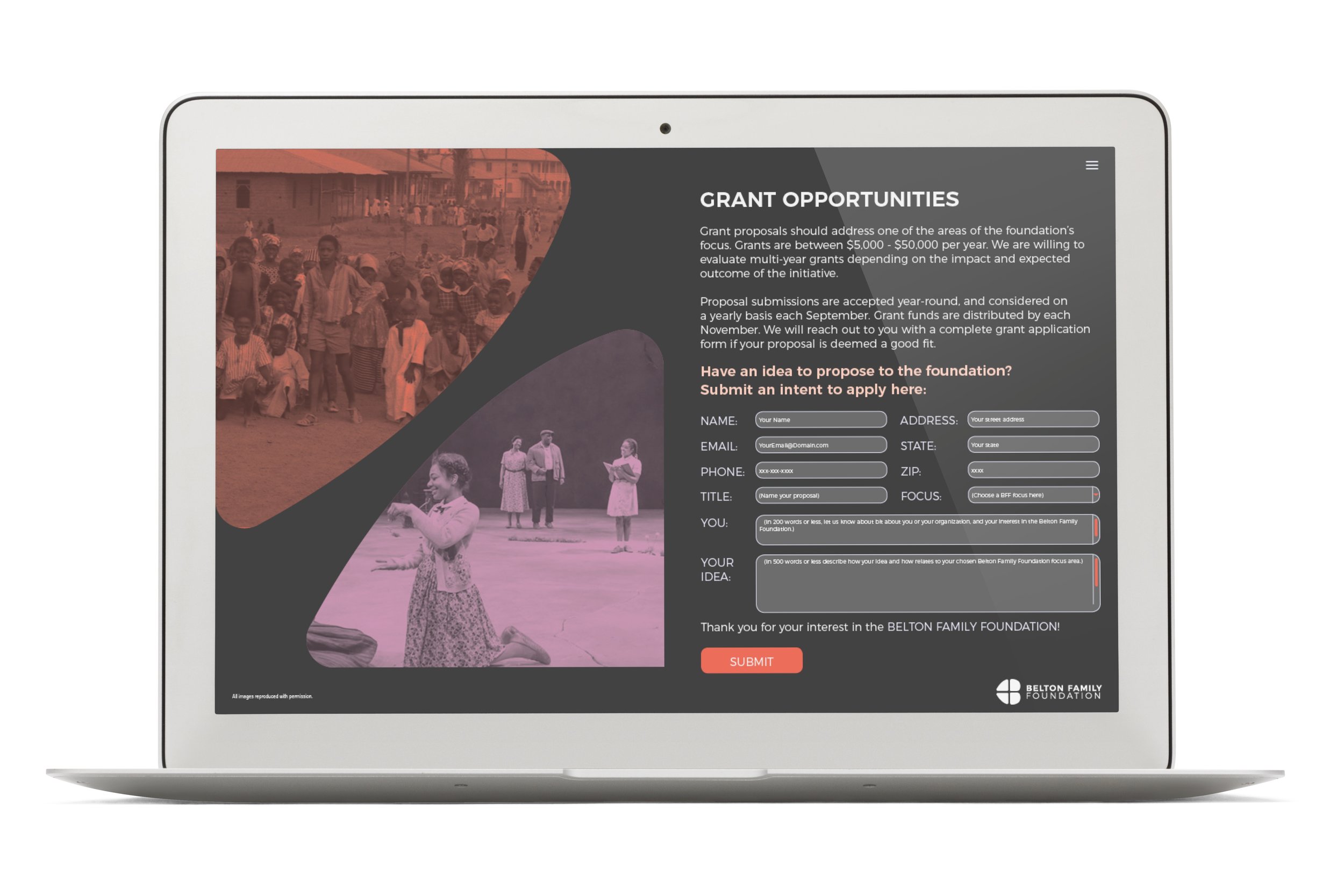 Flexible logo, Colors, and Patterns: